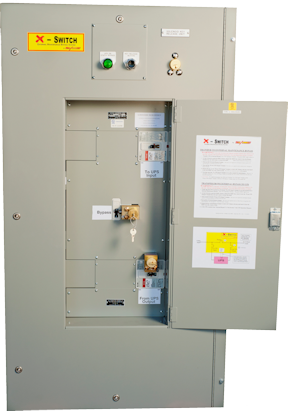 ECONOMY X-SWITCH (UP TO 1200A)
U.L. Listed
Cutler Hammer Thermal-Magnetic Breakers
Breakers Clearly Labeled
Breakers Behind Closed Door
Clear and Model-Specific Installation Instructions
Clear and Model-Specific User Instructions
Simple One-Line
Optional Safety Features:

Solenoid Key Release Unit (SKRU)
Kirk Keys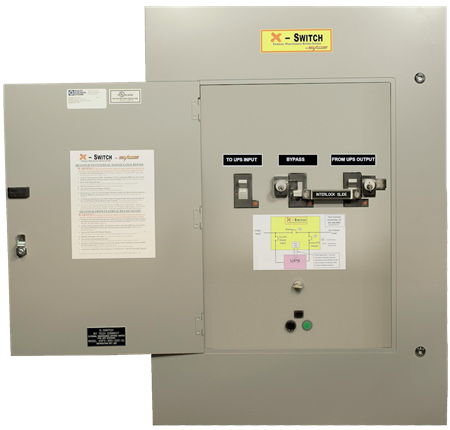 PREMIUM X-SWITCH (UP TO 1200A)
U.L. Listed
High Quality GE Electronic Trip Breakers
All Breakers Vertically Mounted and Clearly Labeled
Breakers Behind Closed Door
Clear and Model-Specific Installation Instructions
Clear and Model-Specific User Instructions
Simple One-Line
With the Optional Safety Features

Solenoid Key Release Unit (SKRU) with Kirk Keys
Safety Slide Bar (Forces Make-Before-Break)
Guiding Lights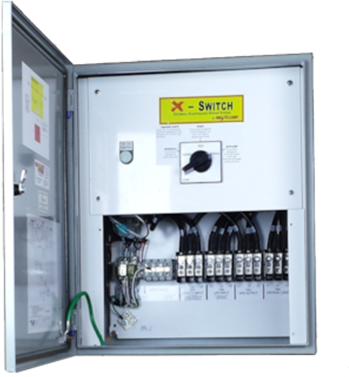 ROTARY X-SWITCH (FROM 40-500A, SINGLE OR THREE PHASE)
U.L. Listed
100% Rated Heavy-Duty Cam Switch
Make-before-break safety feature to prevent an incorrect bypass
Switch Behind Closed Door
Clear and Model-Specific Installation Instructions
Clear and Model-Specific User Instructions
Simple One-Line
Over years of servicing every kind of UPS, we learned that UPS External Bypass Switches always lack in safety, functionality and ease of use. People hate to operate their bypass switch, because they are confusing, complicated and the safety features never work like they should.
For this reason, Tech Connect developed the X-Switch, a no-nonsense external bypass system that makes sense to everyone. The X-Switch provides simple instructions and clear labeling to make using it safe and worry-free. With the premium X-Switch, you can transfer to bypass without ever dropping the critical load or damaging the UPS. We use vertically operated breakers, solenoid key release units (SKRU), a safety slide bar, optional guiding lights, model-specific instructions, a hinged main door to avoid accidents and a simple One-Line diagram.
Custom features are available for your site requirements
Any Voltage or Current Rating
Wall Mount, Rack Mount or Floor Standing Cabinets
Internal TVSS
Internal Transformer
High kAIC Ratings
Output Distribution Breakers
Lockable Door
Extra Breakers for Load Bank, or Dual Input UPS
Different Brand Breakers (Premium Only)
Learn Why Electrical Engineers love the X-Switch?
Ray Ward - X-Switch Inventor/Founder of Tech Connect
Ray Ward is an electrical engineer and is the founder of Tech Connect. He founded Tech Connect in 1994 and grew the company to become a large fish in a small pond. Tech Connect has become a local leader in multi-brand UPS sales and service in Utah and the surrounding states.
We are grateful for Ray Ward and his contribution to the field of critical power. Ray designed the X-Switch and continues to consult Tech Connect on a regular basis.